About Ensminger Builder
Sign With Confidence - 42 Years of Service
Since 1972, when Hurricane Agnes struck the area, Jacob D. Ensminger, Jr. has been building strong foundations throughout the community. Jake has been a member of the Harrisburg Builders Association and has served as past president of Lebanon County Builders Assoc. We can help you with all your contracting needs from home (residential) to business (commercial), new structure or old, and adding on or simply remodeling, but one item remains constant: the selection process for finding your general contractor.
You have found a general contractor dedicated to one ideal—providing the best service from concept to construction. We take pride in being your one stop shop for all your contracting needs in and around the areas of Harrisburg, Hershey, Hummelstown, Palmyra, Annville, Lebanon, Camp Hill, and New Cumberland, PA. At Ensminger Builder, Inc., we believe there is no greater service than satisfaction guaranteed.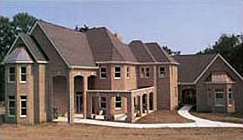 THE FRAMEWORK: RELIABILITY
A record of quality work and customer satisfaction has led to the success of Ensminger Builder, Inc.
Schedules Are Important.
We work painstakingly to develop close relationships with our suppliers, subcontractors, and employees. We strive to meet planned material deliveries so that your schedule will not be easily disrupted.
Higher Standards Are Critical.
Our craftsmen take pride in their work. Therefore, we do not cut corners. We use top-of-the-line building materials, which does not necessarily mean expensive. This does mean low maintenance in the future!
Trust Is the Key.
Your building or remodeling project is a major investment—an investment which you trust us to create. As your project progresses, your Ensminger Builder Job Supervisor keeps you informed! Changes can occur, both unforeseen and initiated by the client. We work with you to guarantee satisfaction.
THE BLUEPRINT FOR SUCCESS
We provide for any need: new construction, additions, remodeling, repairs, and renovations.
Residential Services
New Homes
Design/Build
Additions
In-Home Remodeling
Decks (ask about our maintenance free decks!)
Roofing/Siding
Family Rooms
Garages
Sunrooms
Earth Bermed
Plumbing/Electrical/HVAC
Skid Loader/Dump truck work
Snow Plowing
Light Commercial Services
Maintenance
Partition Walls
Additions
Offices
Renovations
General Repairs
Warehouses
Snow Plowing
QUALITY YOU CAN BUILD ON
Some of Our Standard Features:
Drain-Tile outside of the Foundation Walls
Poured Concrete Walls
Steel I-Beams
Full Basements
Radon Vent Piping from Basement Slab to Attic for Future Active System
2 x 6 Exterior Walls, 16 " on Center
3/4" Tongue and Groove on Flooring; Advantech, Glued, Nailed and Screwed
Wood Bridging to Support Floor Joists and Minimize Floor Squeaks
Kiln-Dried Dimensional Lumber (Spruce, Fir or TJI's)
Low E, Maintenance-Free Windows
5/8" OSB on Roof
Stick Built or Engineered Roof Trusses for Each Specific House
Roof Ridge Vents and Vented Soffits
Upgraded Energy-Efficient Insulation Package
Pre-Wired Phone and Cable TV
Call 717-520-0882, or request info online.
-
Yahoo Local
Serving the areas in and around Harrisburg, Hershey, Hummelstown, Palmyra, Annville, Lebanon, Camp Hill and New Cumberland, PA.
Ensminger Builder, Inc., is or has been a member of the following:
Better Business Bureau
US Chamber of Commerce
Hershey-Palmyra Sertoma Club
National Home Builder's Association-Board Member Emeritus
National Federation of Independent Businesses
Harrisburg Builders Association
From concept through construction, there is no greater service than satisfaction guaranteed.



A STRONG FOUNDATION: OUR REPUTATION